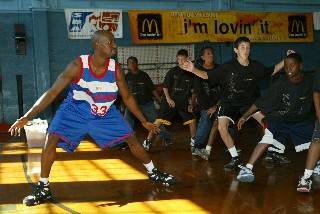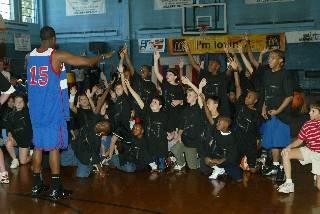 The "SBA Practice with the Pros" clinics are a once in a lifetime chance for area youth to play with and learn from former NBA Players, professional and collegiate athletes, and current professional SBA Street Ball All-Stars. The SBA initiates activities in a fun, safe, and positive environment, to
help build character, co
nfidence, responsibility, accountability, and a host of other qualities that wil
l aid in personal, family, and community development within the youth in an effort to encourage, motivate, and teach young athletes to maximize their potential in sports, school, and life.

The Street Basketball Association is an independent professional association of players and teams throughout the U.S. established to promote and showcase their knowledge, execution, and love of "street ball." Street ball is a distinct form of basketball in which fundamental skills are combin
ed with innovative ball handling skills and uncanny athleticism. The SBA has spearheaded the growth and development of basketball both here in the U.S. and globally throughout the world creating a nu
mber of shows, tours, events, camps, and clinics. The SBA has developed opportunities for basketball enthusiasts to take part in the explosive demand for basketball by creating the SBA Practice with the Pros Clinic featuring the top SBA All-Stars, former NBA players, and staff available.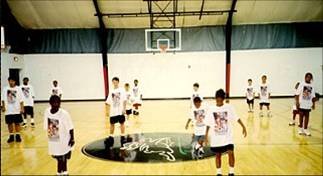 The SBA initiates expert basketball development and entertainment providing fundamental individual instruction to each participant through a variety of coaching techniques and then incorporating these fundamentals into a team concept. Throughout the SBA Practice with the Pros Clinic, SBA All -Stars and former NBA players will stress the importance of basketball fundamentals and team play, while also going over the latest street ball moves, techniques, and tricks. The former NBA Players bring tremendous name recognition and years of experience to the Clinic while the SBA All-Stars have earned iconic status being featured on ESPN Street Ball, ESPN City Slam, AND1 Tours, MTV, EBC Rucker Park (NYC), NBA TV, Slam and Dime Magazine, and hundreds of basketball websites, DVD's and Videos.

The SBA's Practice with the Pros Clinic features SBA All-star Players / Former NBA and Current Professional and Collegiate Players, SBA Upper Level Management and Coaching Staff, Free Style Dribbling and Street Ball Handling Demonstrations, Slam Dunk Demonstrations, Fundamental Basketball Development (Shooting, Passing, Dribbling, Defense, Footwork, and Rebounding), Team Stations and Team Play, Individual Goal Setting, Skills, and Practice Techniques, Shooting Contests and Basketball "Fun Games," SBA Posters, T-Shirts, and Autograph/Photo Sessions.